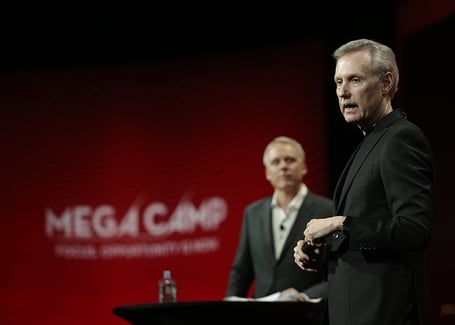 Following the Market Update presentation, Gary Keller and Jay Papasan reviewed the book SHIFT and delivered critical action items every agent should take now.Reflecting on the title, Keller said that the book can actually work to reinvigorate any business at any time – it is not only for use during shifting markets. With that in mind, Keller and Papasan outlined five critical action items agents should do now to pave the way for not just a profitable year, but a profitable career.
Before taking action, you first need to recognize that shifts happen fast, and if you don't prepare early, you may be too late. Start with your mindset and don't assume it won't happen to you. When things are going well, it is difficult to think about – let alone prepare for – them going bad. As Keller said:
When a market shifts, there is only one thing you can do: SHIFT WITH IT.
Get Right – Shift Your Actions with These Five Critical Action Items
In a shift, nothing becomes more critical than lowering your costs, re-energizing your people and systems, finding motivated buyers and sellers, and closing them to appointment.
Action 1 – Find Your Profit Through Expense Management
Now is the time to lower your expenses and make every dollar count. "To generate revenue, you generate leads, but to make a profit, you manage expenses," Keller said. Some ways to do this are as follows:
Maintain a monthly budget that matches your shifting revenue.
Re-margin your personal expenses so that your business and personal life live within their means.
Profit is made in managing expenses.
Action 2 – Do More with Less Through Leverage
As you manage your expenses and make necessary cuts, you will need to get creative to do more with less and make every body count.
A market shift can be an opportunity to upgrade and top-grade your business. This is a gift of the shift. Follow these guidelines to help get your entire team in shift mode:
Be visible and communicate to set the tone.
Ramp up your training to upgrade their skills.
Re-tool your systems for efficiency and focus.
Increase your recruiting to top-grade personnel.
Action 3 – Lead Generate to Find the Motivated
The race is on to find the ready, willing and able clients to buy, because in a shift, there is no longer enough to go around. A shift presents an opportunity to find the truly motivated, but you need to make every activity count.
While the market may change, the reasons people buy homes don't, so find those motivated buyers.
Action 4 – Improve Lead Conversion to Get to the Table
Good leads are great, but leads that become appointments with motivated people are the only leads that matter in a shift. Make sure you take the time and do the activities to make every lead count.
Action 5 – Leverage Your Market Center / ALL HANDS ON DECK – No one succeeds alone.
It's time for all hands on deck because, as we know, no one succeeds alone. To get your market center working in concert, follow these activities:
Share timely information.
Coordinate training on key topics.
Partner recruiting with the team leader and other associates.