Keller Williams International-Dec 18, 2015 7:45:10 AM

For many Keller Williams associates, the planning and preparation for the first quarter of 2016 is complete and outlined in writing. But, have you set your big goals and crafted a plan for the New Year aimed at increasing your personal wellness too?
If you haven't, it's not too late. Start today and be proactive on your path to being in good shape, physically and mentally. It's so important because if we don't give the proper attention to wellness in our lives, we deprive ourselves of our full potential and, as a result, our bodies and businesses suffer.
Because thinking clearly and increasing productivity are important to a business, Keller Williams takes wellness seriously. And. that is why there are Wellness Ambassadors in market centers all across the U.S. helping associates achieve their wellness goals. These individuals are passionate about fostering healthier lifestyles. They coordinate local events, like Wellness Day, and bring practical, educational resources and opportunities to their market center.
Don't let poor wellness be a productivity hack any longer. Take control of your wellness! To make your 2016 wellness goals stick in 2016, use these quick tips:
Write Goals Down
By writing down your wellness goals and hanging them up where you can see them every day, you make wellness part of your daily activities.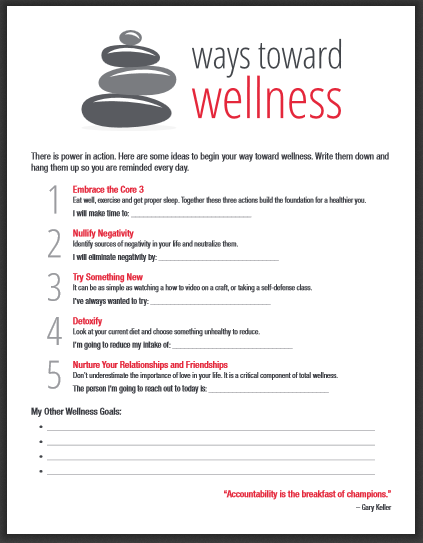 Achieve Whole Body Wellness
The big three components of wellness are eating right, regular exercise and sleeping properly.
Eating Well: Most of us exchange convenience for health. Thankfully, it is becoming easier and more convenient to eat healthier. Take control of your meals. Make a concerted effort to reach for something your body needs, instead of something your taste buds desire. You will begin to feel better and your body will show it.
KW Wellness Ambassador Idea: Implement a Farm to Office delivery in your market center.
Exercise: We all know we need to exercise, but often blame our hectic schedules for making it hard to find the time to exercise. By walking 10,000 steps each day, you will experience a noticeable increase in your wellness.
KW Wellness Ambassador Idea: Make walking a habit by organizing a 66-Day Step Challenge for your market center.
Sleeping Properly: Everyone's individual sleep needs vary, but the general rule is seven to eight hours of sleep each night.
KW Wellness Ambassador Idea: Carve out a wellness section in your market center newsletter and write out a few tips for a better night's sleep.
In addition to the core three components, wellness has many other dimensions to it. Unique to each individual, mental health, spiritual health and emotional health are all important components of total wellness.
Make 2016 your best year yet by making an investment in yourself. Start by downloading the free My Way Toward Wellness, connecting with the Wellness Ambassador in your market center to get involved and signing up for KW MAPS Group Coaching course The Energy Advantage.